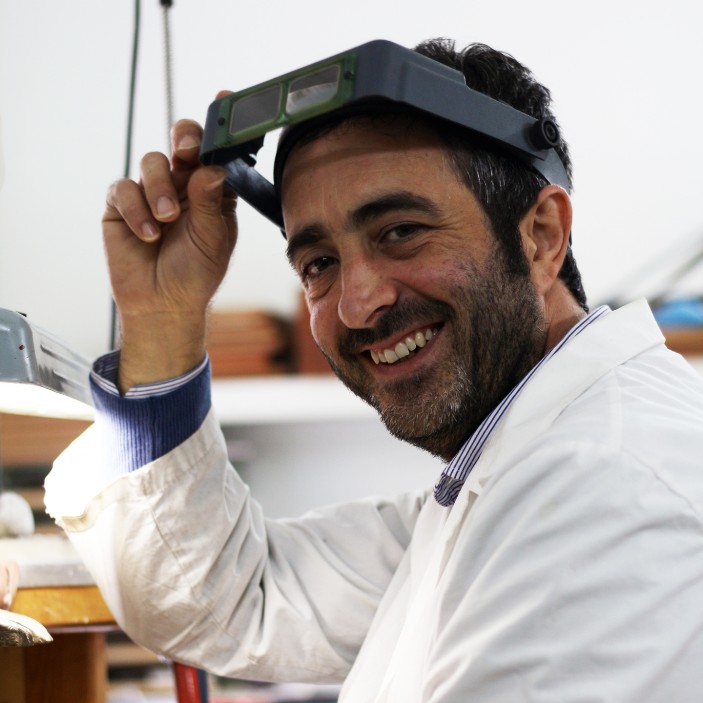 Raised under the guidance of father Attilio, skilled jeweler since 1964, little more than teenager Rosario Viscusi already juggles the goldsmith banquet showing right away to have the delicate and safe touch of the true craftsman.
Inspired by a deep passion for the "trade", in the 90s he decided to move to Naples, where he attended a specialization course at the Tarì goldsmith district, becoming a jeweler model maker.
Important collaborations follow with the Neapolitan laboratories, where in contact with the skilled goldsmiths, over time acquires a wealth of experience of great intensity.
Faced with a very strong creativity, strong of the assimilated, self-assured experience, Rosario creates in his country of origin, Frasso Telesino (BN), its own brand "RO GIOIELLI", which since 2000 operates on the market creating unique works in gold, silver and precious stones.
Choosing a creation RO GIOIELLI means wearing the Italian artisan style, perfect synthesis between technique and passion, classicism and innovation ... emotion.
Calvani Street, 25 - Frasso Telesino - BN - Italy
+39 0824 973182 - info@rogioielli.it